Salvador González Marco, better known as Voro, was born in Alcudia on October 9, 1963, a former Spanish football player who played as a right back formed in the youth academy of Valencia CF, club in which he debuted in 1983.
Professional footballer for 15 seasons playing a total of 489 official matches on the following teams:
CD Tenerife (Military Service) 43. He was loaned to the club at the age of 21 in the 1984/85 season.
Valencia CF 288 (eight seasons)
RC Deportivo 133
CD Logroñes 25. Team in which he retired from active football in 1998.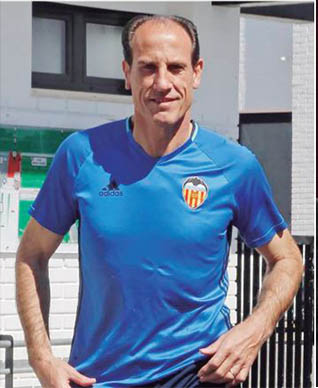 He was international with the Spanish national football team 9 times with Javier Clemente as coach. His debut came on October 13, 1993 against Ireland in Dublin. He was also summoned for the 1994 World Cup USA.
He is currently Director of Organization ("Team Manager") of the Valencia CF first team since August 2017.
Between 2005 and 2017, he was delegate of the first team of the Valencian club, becoming interim coach of the team up to five times when he had a coach's license, in 2008, 2012, 2015, 2016 and 2017.
During the 2001/02 season, he began his career as a coach at Levante UD B where he was unable to obtain promotion to 2B. In 2002 he was the coach of the Valencia CF B Valencian subsidiary, and since 2005 he became the delegate of the Valencia CF first team, replacing the legendary Manolo Maciá, who in turn had replaced a mythical one like Juan Cruz Sol four years earlier.
Honors
• Second Division Championship with Valencia CF in 1987
• Copa del Rey with Deportivo de la Coruña in 1995
• Spanish Super Cup with Deportivo de la Coruña in 1995